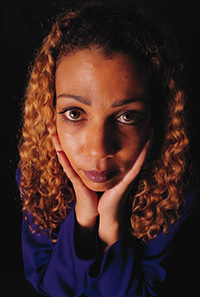 In this bed bug lawsuit against Charlottesville Super 8 Motel, Janie McFarland filed it herself (rather than using an attorney) and is asking for 7 Million Dollars! Wow! This is interesting because if she wins, she won't have to pay the big legal fees which might have come out to around 30% – that is a savings of over 2 million dollars in attorney fees!
CASE CLOSED – FINAL UPDATE!
Both parties have come to an agreement and the case was closed on 7/21/2016! There is no more information. Did the hotel pay off McFarland before the trail? Did the
ruling in docket item #63
impact McFarland's plan to move forward? We are writing McFarland with the intent on finding out exactly what happened and will share as we learn more!
Update 11/25/2016 – Janie McFarland is now suing the United States Government for $24.5 Million because she claims the Northport VA Medical Center has harmed her.
We also found a lawsuit by Janie Marie Farland against the United States for $12,175,000 filed on 10/12/12, and in this case, she is also representing herself. If you compare these two cases, you'll see the phone numbers match, but the name used is Farland rather than McFarland.
Case 2:12-cv-05162-SJF-SIL Document 1 Filed 10/12/12 Page 4 of 8 PageID #: 4
compared to:
Case 3:15-cv-00016-GEC-JCH Document 15-1 Filed 10/19/15 Page 9 of 40 Pageid#: 58
We noticed that in Janie McFarland's answers to Super 8 Motel's first set of Interrogatories, she states she is known by other names of Janie McFarland; Janie Marie Farland; Janie Marie Holmes; and Janie Marie Hill.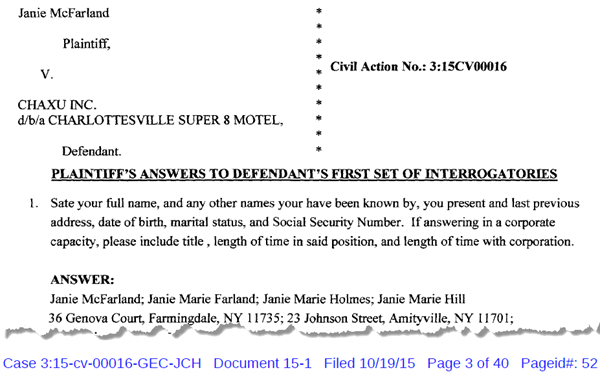 Super 8's attorney asked McFarland a LOT of questions in an oral deposition which we've obtained, but first, let's take a look at the lawsuit Janie filed and read her side of the story…
Suit filed by Janie McFarland – 5/10/2016 Update
Plaintiff Janie McFarland, pro se, as and for her complaint against defendant CHAXU INC. d/b/a CHARLOTTESVILLE SUPER 8 MOTEL, upon knowledge as to herself, her direct interaction with Defendant, and other information and belief, declare and affirm the following:
PARTIES
1. Plaintiff Janie McFarland is an individual residing in the town of Farmingdale, Suffolk County New York.
2. At all times relevant to this action, Defendant CHAXU INC. ("Charlottesville Super 8") was and is a for-profit domestic corporation formed in accordance with the laws of the Commonwealth of Virginia. Chaxu Inc. maintains a regular place of business at 390 Greenbrier Drive Charlottesville, VA 22901 where it operates a hotel under the trade name "Charlottesville Super 8 Motel" or "Super 8 Charlottesville".
JURISDICTION AND VENUE
3. This court has jurisdiction pursuant to 28 U.S.C. § 1332 and the venue is proper pursuant to 28 U.S.C. § 1391.
STATEMENT OF FACTS
4. On September 13, 2014 approximately 2:00 PM free of any bites, marks, or other symptoms, Plaintiff checked into the Super 8 Charlottesville and was assigned room No. 107.
5. At approximately 9:00 PM on September 13, 2014 free of any bites, marks or other symptoms Plaintiff retired for the evening and went to sleep in the bed provided by Defendant.
6. At approximately 7:00 AM on September 14, 2014 Plaintiff rose from bed to find more than fortyfive (45) bites on different areas of her body including the face, scalp, neck, arms, underarms, chest/breasts, back, thighs, ankles, feet, and hands.
7. Plaintiff then inspected bed and bed linens to find it infested with bedbugs, and proceeded to take pictures of herself, and the bed. Plaintiff also took a dead bedbug and wrapped it in tissue.
8. Plaintiff notified Defendant of her injuries, the condition of her room and gave Defendant the bedbug that was wrapped in tissue.
9. Defendant asked Plaintiff to provide it with her contact information and was told that an inspection of the room would take place, and if bedbugs were present the cost of the room would be refunded.
10. Plaintiff checked out of Defendant's facility on September 14, 2014 at approximately 9:00 AM.
11. On September 15, 2014 Plaintiff went to see her medical provider for treatment. During the consultation Plaintiff was informed that the size and swelling of her bruises were indicative of an allergic reaction from the bedbug bites and that she would require further medical attention. Plaintiff was prescribed Hydroxyzine and Fluticasone Propionate Cream.
12. On September 15, 2014 Plaintiff received a phone call from Supervisor/Manager for the hotel Desiree Scott ("Ms. Scott") informing Plaintiff that the exterminator hired to inspect the room found bedbugs in the dust ruffle and box-spring of the bed provided to Plaintiff. Ms. Scott went on to explain the room would be taken out of service for approximately a week to undergo heat treatment. When asked by Plaintiff what that consists of, Ms. Scott's response was that the room is heated to a temperature of 140 degrees (Fahrenheit) for a period of four hours.
13. The night of September 15, 2014 Plaintiff experienced severe and painful itching. The following morning (September 16, 2014) Plaintiff notified her doctor of her condition and was informed by him that the initial round of tests indicated that her immune system had been compromised and blood tests were scheduled.
14. On September 23, 2014 Plaintiff mailed letter to Defendant, requesting resolution and making Defendant aware of Plaintiff's intention to proceed with legal action.
15. On September 29, 2014 Plaintiff was contact by Timothy Kelsey ("Mr. Kelsey") an attorney for the Defendant informing Plaintiff that she would receive an email in reference to Plaintiff's letter dated September 23, 2014. Plaintiff did not receive any email of the sort.
16. On October 13, 2014 Plaintiff returned to her physician for blood tests, and was instructed to continue initial treatment.
17. A follow up letter dated October 27, 2014 was sent to Defendant informing citing the non-receipt of a response and informing Defendant of Plaintiff's intent to file a formal complaint.
18. On October 29, 2014 Plaintiff was contacted via telephone by Mr. Kelsey informing Plaintiff they " … dropped the ball.", and that Plaintiff's information was being sent to the Defendant's insurance company. Mr. Kelly requested that Plaintiff allow two weeks to give the insurance company to respond.
19. On October 30, 2014 Plaintiff was contacted by Nichole Meyer, a Claims Specialists for Liberty Mutual Insurance ("Ms. Meyer"). Ms. Meyer informed Plaintiff that an investigation was opened (Claim #****7734) and asked Plaintiff to do a "Recording Verification" (verification .#****339). Photos showing Plaintiffs bites, scaring, and bruises were sent to Ms. Meyer via email.
20. Plaintiff sent a follow up letter dated December 9, 2014 to Ms. Meyer with regard to the status of the investigation.
21. On December 9, 2014 Plaintiff received an email from Ms. Meyer stating that she is " … still waiting for additional information from the exterminating company." and will contact Plaintiff when she has received all the pertinent information to make a decision.
22. On March 1, 2015 Plaintiff called physician in reference to severe and continuous swelling in her left foot, and was scheduled for an appointment on March 24, 2015.
23. On March 24, 2014, during the her examination due to excessive swelling Plaintiff was scheduled for an immediate ultrasound to check for blood clotting and was advise to see vascular specialist.
24. On March 26, 2015 vascular specialist advised Plaintiff to see podiatrist.
25. On March 31, 2015 Plaintiff had appointment with podiatrist, who took an x-ray of foot and scheduled follow up for April 2, 2015.
26. On April 2, 2015 upon reviewing x-ray, Plaintiff was scheduled for an MRI on April 13, 2015.
27. As of the date of the filing of this complaint the Plaintiff has not received any further correspondence from Ms. Scott, Mr. Kelsey, Ms. Meyer, or Defendant.
FIRST CAUSE OF ACTION
(Failure to maintain and provide safe, clean, and habitable accommodations; exposing Plaintiff to a health risk)
5269707065642066726f6d204c6177737569747352657669657765642e636f6d
28. Plaintiff incorporates by reference all the preceding paragraphs of this Complaint.
29. Defendant, being a commercial hotel operator has a duty under common law as an innkeeper to care for the safety and well-being of its guests, to protect their person and property, and to provide accommodations that are clean and suitable for habitation. Within the scope of this duty is a responsibly to provide guests with rooms that are clean and free from vermin and pests that would pose a risk to guests including bedbugs. Defendant further encourages guests to maintain this expectation by promoting on it's website that it "strives to offer the cleanest rooms and friendliest service possible". An hotel operator or innkeeper who fails to uphold this duty or causes injury to a guest is liable to that guest for his or her injuries. This duty of care has also been described in §35.1-28 of the Virginia Code.
30. Once Plaintiff was checked into the hotel she became a guest of the hotel and Defendant as the hotel operator accepted the duty to care for Plaintiff and provide a safe and sanitary hotel room.
31. The presence of live bedbugs, an insect known to feed on human blood and reproduce aggressively, is indicative of Defendant's failure to thoroughly clean and inspect its rooms between visits. This enabled the bedbugs to fester and multiply; creating a health risk.
32. Defendant failed to uphold its duty to Plaintiff by exposing her to this risk when it assigned her room No. 107 at a time when it was infested with bedbugs, and doing so without any notice or warning to Plaintiff as to the condition of the room or the risks involved in sleeping in it.
33. As a result of Defendant's actions, Plaintiff sustained more than 45 bedbug bites, which caused swelling, scaring, body pains, and [FOOT CONDITION], prompting her need for medical attention. This in tum caused Plaintiff emotional distress due to having to withdraw social interactions because of the number and size of her bruises, and the stigma associated with being bitten by bedbugs. In addition, Plaintiff experienced mental anguish and anxiety over concerns as to whether or not additional bedbugs could have lodged themselves in her hair, clothing, or luggage and been brought to her home.
REQUEST FOR RELIEF
34. WHEREFORE, Plaintiff respectfully requests that this Court enter a judgment in favor of Plaintiff and grant the following relief:
(a) Enter a judgment against Defendant and in favor of Plaintiff for compensatory damages in the amount of $5,500,000.00 for physical, mental, and emotional injuries including emotional distress, and pain and suffering.
(b) punitive damages in an amount of $1,500,000.00 for Defendant's blatant disregard for Plaintiff's safety; it's dismissive and inattentive behavior with respect to Plaintiff's ongoing concerns and attempts at resolution; and Defendant's delaying of the insurance investigation process.
(c) and such further relief in favor if the Plaintiff as the Court deems just and proper.
Dated: April 6. 2015
Farmingdale, New York
Janie McFarland, pro se
36 Genova Court
Farmingdale NY 11735
631-786-9549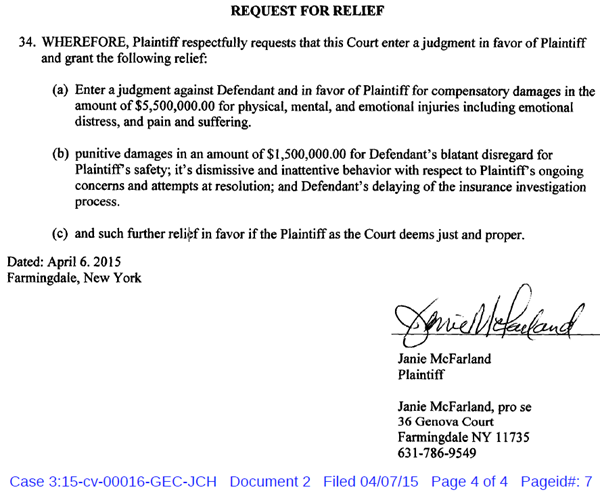 The court handling this case is the US District Court for the Western District of Virginia, Charlottesville Division FILED 4/7/2015 Civil Action No.: Case 3:15-cv-00016-GEC-JCH and is known as Janie McFarland (Plaintiff) vs Chaxu Inc. d/b/a CHARLOTTESVILLE SUPER 8 MOTEL (Defendant).
See Docket for more info on dates.
CHAXU, INC. d/b/a CHARLOTTESVILLE SUPER 8 MOTEL, filed this answer to the lawsuit.
Then in January and February 2016, Chaxu Inc. asked the court to find in their favor and also dismiss McFarland's $1,500,000.00 claim for punitive damages, while McFarland claimed the court should find in her favor on the rest. In April of 2016, Chief District Judge Glen E. Conrad granted Chaxu's request to dismiss the punitive damages but denied finding in either of the parties favor, leaving the $5,500,000.00 for injuries to move toward trial, which was reset for 7/20/2016 thru 7/21/2016 09:30 AM in Charlottesville.
Note that Chaxu Inc. is doing business as Charlottesville Super 8 Motel and are represented by:
Attorney Imie Aisiku Harber
Law Office of Christopher R. Costabile
10555 Main Street, Suite 400
Fairfax, VA 22030
Email: imie.aisiku@libertymutual.com